We thought Super Good Counterstool was pushing it.
Now available in a copper plated finish that is intended to patina naturally with handling and age for a unique look. The Copper Real Good Counter Stool ships flat and folds along laser-cut lines to create a dynamic and comfortable chair. As skinny as a supermodel yet far more sturdy. Click
here
for other color options.
Shop the entire
Real Good Collection.
Product Dimensions
Overall

18"w x 18"d x 36"h
Overall

18"w x 18"d x 36"h
Product Details
Copper plate over steel
Assembly required. Re-tighten hardware periodically.
Please note that the copper finish will tarnish more rapidly when in contact with the non-slip latex backing of the Real Good Stool Pad.
Design Story:
The Real Good Chair Collection
Designed 2007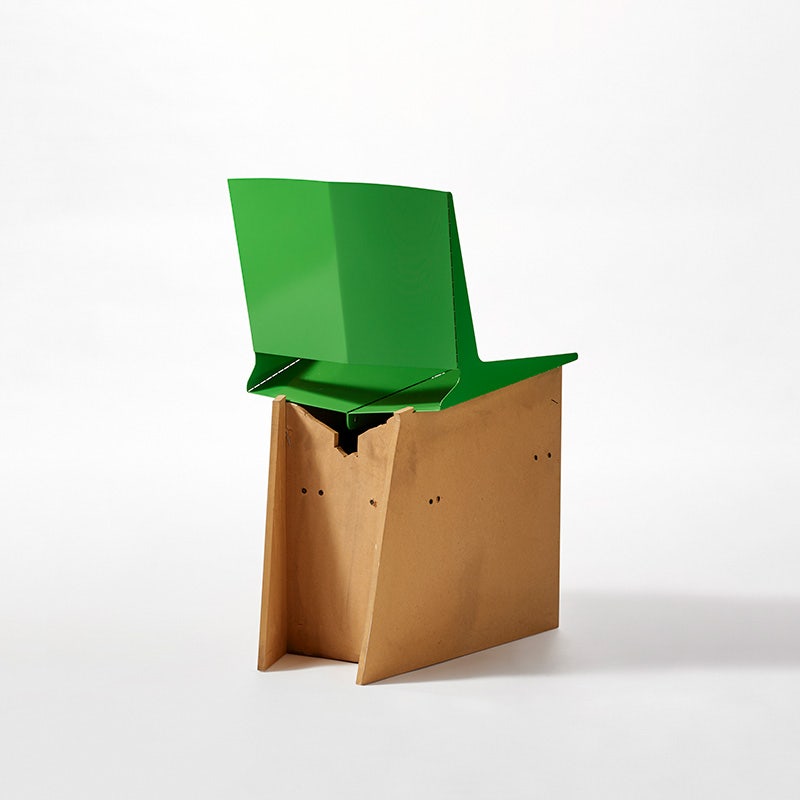 Shipping chairs all over the world costs money and wastes resources. That's because chairs inside a box are mostly air, and as a result, you can't fit many of those boxes onto a truck. With the Real Good Chair, we figured out a way to make a great chair that ships in an oversized pizza box. Real Good is made from bent tubing and sheet metal that has been specially perforated to allow the user to take a flat piece and make it three-dimensional by folding on the "dotted line." Metal origami. The natural flex in the steel gives the chair surprising comfort. And the faceted look of the chair – derived entirely from solving an economic problem – makes its own statement.

Designing stuff we love.
Every day here in Minneapolis.
Back to top →
This item ships via FedEx.
The final delivery options are determined in checkout based on your cart's contents and ship-to address.
If you aren't happy with your purchase, notify us within 30 days of receipt and we will take it back for a refund of the returning item(s) minus a 10% return fee.
After 30 days, you can do the same, but you will be charged a 20% return fee on the items returned. Original delivery fees are non-refundable and additional shipping fees may apply.